HVAC Service in Metairie, LA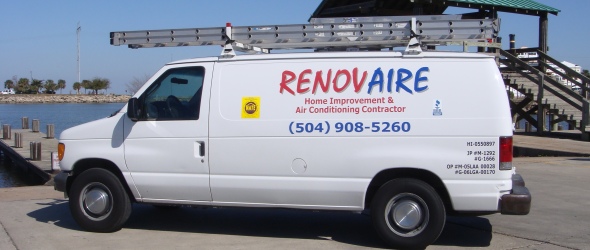 When you need residential AC repair, commercial AC service, water purification systems, and home renovation projects, trust nothing less than the best in expert, professional care: trust Renovaire LLC! For over a decade we've been delivering unparalleled HVAC services to homes and businesses throughout Metairie, Parish, Kenner, New Orleans, and Jefferson Parish, LA and the surrounding areas. Call us today to get a free diagnosis with repairs!
Complete Heating and Air Conditioning Service
At Renovaire LLC, we believe your home or business HVAC system is a direct conduit to your quality of life—if your HVAC components are functioning to their highest level of performance, you can expect to be comfortable and relaxed. On the other hand, when the forced air being supplied to your building is of a sub-par quality, it's going to downgrade your environment and prevent you from truly enjoying time spent in that space. That's why, at the first sign of trouble, Renovaire LLC will be on hand to set your HVAC system and all of its facets right, so you can have peace of mind in knowing you're getting the best quality air and the best quality of life.
More than just offering a full gamut residential and commercial heating and air conditioning services, the professionals at Renovaire LLC are dedicated to being your source for maintenance, installation and inspections! We can help prevent costly heating and AC service in Metairie, LA by helping you be proactive about your mechanical and electrical services. And, when you couple preventative maintenance, seasoned repair expertise and the quality selection of products Renovaire LLC offers, it's not hard to see why our customers continued to be satisfied with their commercial and residential HVAC service! Take a look at a few more reasons why you should contact us:
We are a veteran-owned and –operated HVAC service company.
Our professionals have a combined 40 years of HVAC experience and expertise!
We proudly offer a two-year warranty on all heating and air conditioning service and labor performed by our techs.
We maintain an A-plus rating with the Better Business Bureau.
We are NATE Certified and State Certified for mechanical and electrical repairs.